Hotel Los Lagos**** with 20,000 hectares under protection and located on the edge of an immense and magnificent lake combining natural beauty and an incredible sense of peace and harmony.
Program 4 Days 3 Nights
Day 1: Santa Cruz • Trinidad
Departure by bus at 20:30 to Trinidad.

Our pilots will be waiting for you at the airport to immediately depart in our airplanes for a direct flight (almost 1 hour) to HOTEL LOS LAGOS**** En route one can observe the extensive savannas, winding rivers and much more. Welcome lunch at LOS LAGOS****.
Afternoon excursion to explore LAGO LARGO visiting different points of interest and beauty. At DELTA, a unique and beautiful spot with numerous palm trees and crystalline water appearing almost as a gigantic aquarium and the opportunity to hopefully see a freshwater river dolphin. The visit also offers the chance to take a swim in this incredible lake.
Return to the hotel to rest and enjoy the subset before having a delicious dinner prepared by an international chef.
Day 2: Los Lagos
After breakfast depart for Porvenir – a almost paradisiacal place taking one through savannas, forest and much more with incredible nature surrounding us the entire trip. The trip (by land) takes approximate 45 minutes until we reach the beaches of PORVENIR; from here, we navigate on the LAGUNA DICHOSA until arriving at our tallest observation point reaching 21 meters in height.
This panoramic view is the only one of its kina in Bolivia and allows one to be up in the tree canopies close to macaws and many other species of birds. A truly unique experience – especially for bird watchers!
We continue navigating (rowing to avoid making noise) and observing hundreds of palms that border the lake until reaching a canal that connects with LAGUNA BRAVA. Here we find ourselves in a magical world full of smells and sounds from the incredible nature that surrounds us. The main attraction is in the incredible amount of hoatzins, king fishers, woodpeckers, ducks and many other species of birds.
At the end of the afternoon you will witness a spectacular sunset. Return to hotel and dinner.
At night you can take an excursion by the lake and observe the stars which results in a very relaxing experience. Also, there is a chance to see nocturnal animals! Overnight at hotel.


Day 3: Los Lagos Trinidad • Santa Cruz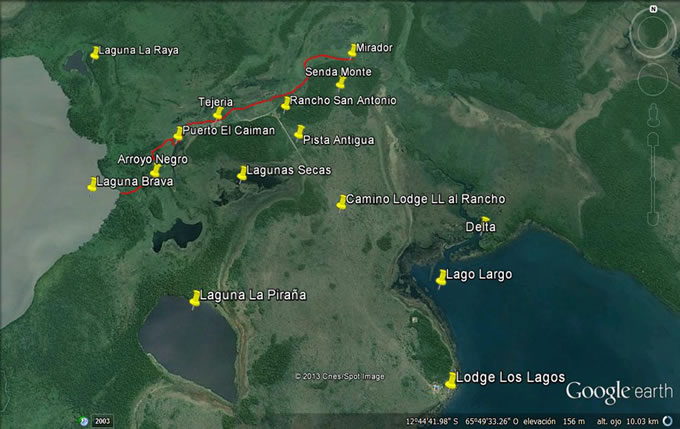 During the early morning hours we will be awakened by the songs of many birds. After breakfast we will depart by a pick-up truck or horseback to the hacienda SAN ANTONIO, a cattle ranch about 5 Km. from the hotel where cow hands will be awaiting us with a delicious beverage made from fresh milk known as ambrosia. Here we will have the opportunity to observe the work of the Beniano cowboy riding with them through the vast plains of the Beni herding cattle.

For those that prefer birdwathcing or photo safari this is the perfect opportunity with extensive natural grasslands. EL ARROYO NEGRO and the nearby wetlands make this a perfect spot as well. The number and species of birds is incredible! At lunchtime a typcial barbecue is served under shady trees of mango. Return to the hotel, brief rest and prepare to return to Trinidad arriving by 15:00 at the bus station to catch the bus back to Santa Cruz.
Includes: Bus ( with bed )Santa Cruz – Trinidad – Santa Cruz, Light aircraft Trinidad; LOS LAGOS**** • Trinidad; Lodging • full food service • tours • guides